This is your ultimate round up of easy but out-of-this-world Christmas recipes! There's a little something for everyone here – starters, main dishes, side dishes and of course, desserts.
Plan your Christmas menu with ease with every delicious, free printable recipe you could ask for.
Save this one and pin it for later – it's the best Christmas recipe guide around, featuring 50+ incredible recipes!
One of the things I've learned in my years of entertaining is that planning ahead is my best method to beat the stress. This goes for everything – invitations, decorating, and certainly the meal planning and prep.
However, it can be overwhelming to get started. There are so many delicious recipes and ideas out there to choose from! That's where this easy, organized guide comes in.
Today I'm sharing my favorite recipes for the holidays, broken into categories that make it easy to follow and understand. You'll see a link to each one, featuring a free printable recipe card.
If you prefer to simply browse around and find your own version of a perfect Christmas meal plan, hop on over to the Christmas category!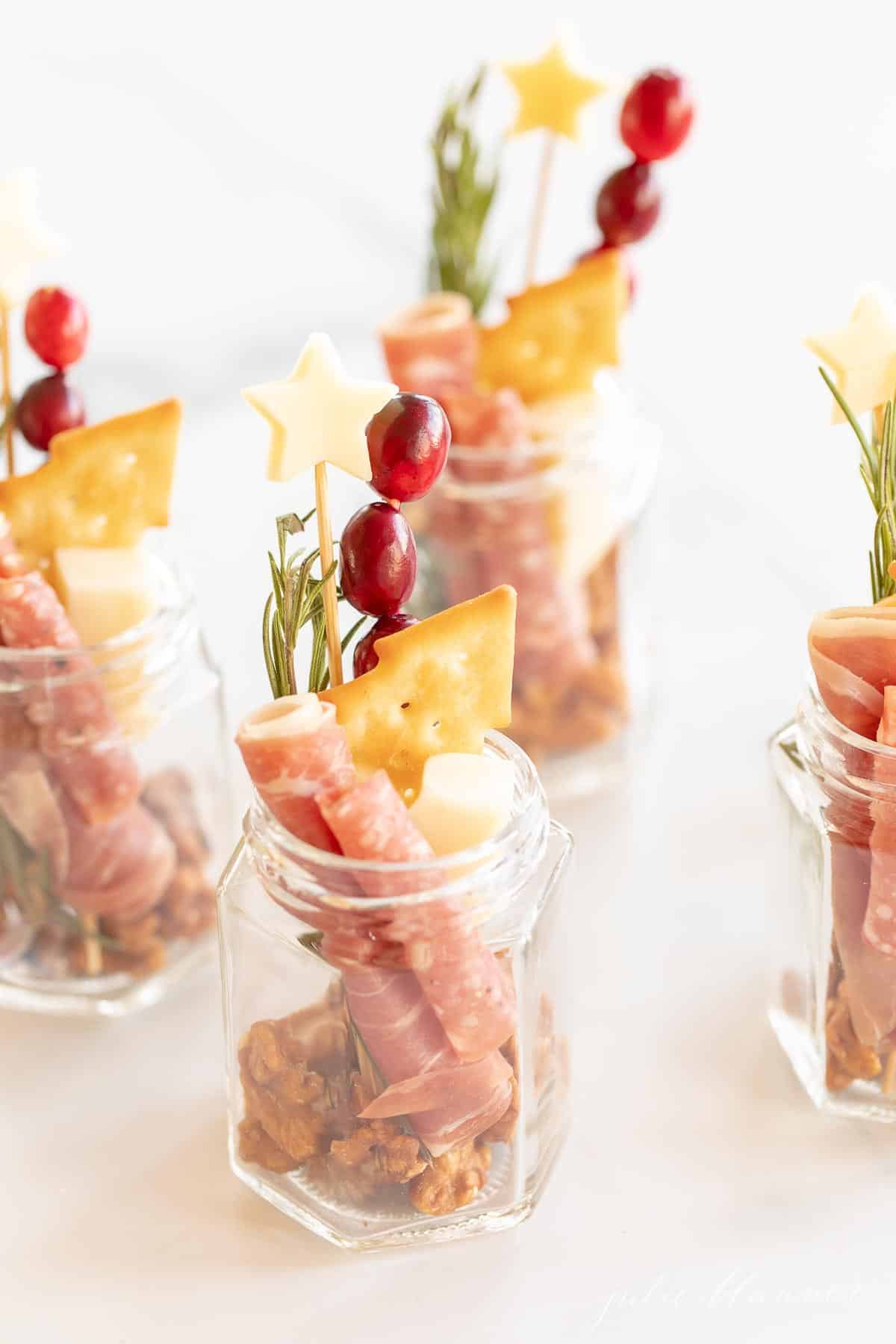 Christmas Menu Ideas
Christmas looks different for everyone. You can serve a beautiful brunch, host a festive informal gathering with walking tacos or chili, or treat your guests to a fabulous formal dinner party.
With that in mind, these menu ideas reflect some of the most popular recipes I've created over the years! You'll find fabulous appetizers and delicious desserts, and everything in between.
Serving Suggestions
Here are my favorite serving platters, utensils, baking dishes and glassware. Whether you serve an informal buffet on your kitchen countertops, or a more elaborate seated dinner, you can make it feel oh-so-special for guests with some beautiful serving suggestions.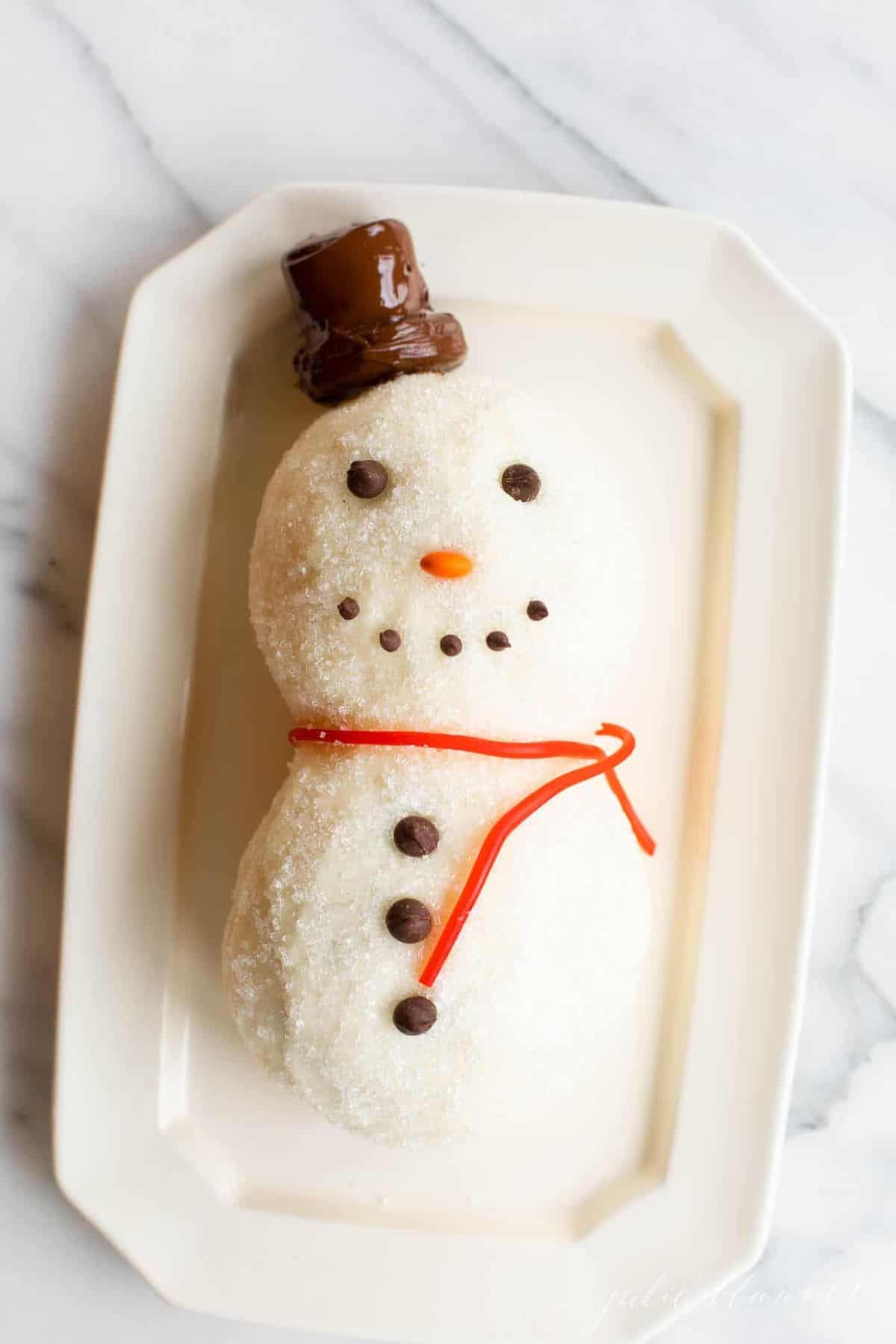 The Best Christmas Recipes
This is your ultimate round up of easy, incredible Christmas recipes! There's a little something for everyone here – starters, main dishes, side dishes and of course, desserts.
This Bacon Ranch Cheddar Cheeseball is so cute and festive for the holidays! Shaped into a charming reindeer, this Christmas cheese ball will be the hit of your parties this year – a bacon cheese ball has never looked so cute!
These bacon and cream cheese Stuffed Mushrooms are an easy crowd pleasing appetizer made with just a few simple ingredients. This stuffed mushroom recipe is perfect for parties and perfectly poppable! You can't stop at just one!
These bacon wrapped dates are stuffed with decadent cream cheese… it's the ultimate combination of sweet and savory flavors. Textural, creamy and oh-so-delicious, you're going to love this incredible appetizer!
Why buy a boring store bought Holiday Cheese Ball when it's so easy to make your own? This Pomegranate Cheeseball recipe is a savory Christmas Cheese Ball with a vibrant taste of sweet and sour pomegranate seeds.
Make it in the simple shape of an ornament and you'll have an appetizer that everyone will love!
Make it festive this holiday season with a delicious Cranberry Cheese Ball shaped like Santa's hat!
Jarcuterie is the cutest spin on the ever-popular charcuterie boards that are forever loved by families and party-goers across the world! Instead of a board or platter, charcuterie elements are served in individual containers or jars.
Mini cheese ball bites are the ultimate easy appetizer to serve at parties! They are filling, savory and delicious… not to mention so easy to customize.
How to make a beautiful and festive Christmas Appetizer – a Brie Wreath! Baked Brie is always a crowd pleasing sharing plate during the holidays and like most of my easy recipes, just takes a few ingredients to make!
The best veggie dip recipe that will have everyone begging for the recipe! This vegetable dip makes a large batch perfect for get-togethers! Get the secret that makes it stand above the rest!
This Pesto Cheeseball wreath makes the most festive holiday Pesto Appetizer. Cream cheese, basil and cherry tomatoes create a Pesto Cheese flavor explosion! Easy to make with just five ingredients, this gorgeous wreath will be the star of your Christmas party.
Salads
Choose one of these festive and fabulous green salads to accompany your main dish this Christmas!
A fun and festive Christmas Salad that looks as good as it tastes. This Christmas wreath salad is always memorable and is quick and easy to make! Perfect to serve as a holiday appetizer or as a side dish.
This easy endive appetizer is everything you crave for entertaining! It's healthy, gorgeous, and simply bursting with fresh flavor. Bonus? Endive lettuce is naturally so easy to hold… your guests will keep coming back for more!
A simple Italian Salad recipe, St. Louis style. Mix up this delicious, memorable salad with fresh and flavorful Italian Dressing in less than 10 minutes!
An easy Pear Salad Recipe with candied walnuts and gorgonzola is all you need to compliment the Fall season! It's the perfect dish for a light lunch, dinner or holiday meal.
This roasted beet salad is not only gorgeous to serve, it's more delicious with each and every bite! Loaded with incredibly tender roasted root veggies, it's a restaurant level salad you're going to absolutely crave!
Main Dishes
While a turkey or ham might be the classic choice, feel free to choose something unexpected! Salmon, steak, or even pasta can feel elegant and special for guests!
This Honey Glazed Ham will be the sweet and savory star of your dining table for Christmas and beyond!
It's made with just five ingredients and 10 minutes hands on time, making it perfect for even a weeknight dinner!
This is an incredibly easy homemade lasagna with cottage cheese that can be thrown together in just 10 minutes hands-on time. If you're looking for a simple lasagna recipe with cottage cheese filling, this is the one for you!
Learn more about what to serve with lasagna and reheating lasagna in the oven, too.
This steak marinade recipe inspired by a classic from Barefoot Contessa results in a perfectly marinated steak that just can't be beat!
Bursting with big, juicy flavor, this is the best steak marinade recipe we've ever used!
This Lemon Pepper Salmon recipe is absolutely foolproof. In fact, it's the most delicious and easiest way to add all the goodness that salmon offers into your dinner rotation.
With the perfect blend of seasonings and the essence of fresh squeezed lemon, it's a light and easy dinner your whole family will love!  
Breads
Choose one item from this category- or choose them all, of course!
A quick and easy artisan homemade bread recipe that is adaptable. It's perfect for smothering in butter, dipping in oil, or slicing for sandwiches. This homemade bread is moist on the inside, crusty on the outside, and full of flavor!
This garlic bread recipe is incredible and it doesn't require yeast thanks to a little shortcut – frozen dinner rolls.
This cheddar beer bread is comforting, savory, and incredibly delicious with a variety of toppings and dips. You'll leave your guests craving more – it's the ultimate party food!
Crispy homemade cornbread topped with an incredible maple butter an easy sweet and savory cornbread. It's a holiday side dish that everyone will love! Simple to make, it's on the table in just 30 minutes!
These homemade dinner rolls are soft, fluffy, buttery and quite simply irresistible. The best part? This homemade dinner roll recipe is truly ready in around 30 minutes, start to finish.
Side Dishes
Serve 2-3 side dishes to round out your holiday meal.
Step aside green bean casserole, Green beans with Bacon are an easy, last-minute side dish for holidays with the best blend of garlic, parmesan and bacon that will have green bean haters begging for the recipe!
A must have, melt in your mouth Sweet Potato Casserole Recipe that is a crowd pleasing side dish for Thanksgiving and Christmas. This dish will wow your guests, while taking just 10 minutes hands on time to make!
Potatoes Au Gratin in easy to serve stacks! This recipe is everything you love about potato gratin made with thinly sliced potatoes, cream and gruyere – plus it's delicious little individual servings.
Mix up your mashed potatoes for the holidays with this easy Caramelized Shallot Mashed Potatoes recipe! They're so flavorful you'll never want basic mashed potatoes again!
Baked Artichoke is one of the easiest side dishes and ways to get your veggies in! These roasted artichoke are so delicious on it's own or tossed into a salad.
It's not only delicious, but a good source of fiber, Vitamin C and Vitamin K!
Cranberry Sauce with Port – aka drunken Cranberry Sauce is a nice twist to the traditional Thanksgiving and Christmas recipe. This easy cranberry sauce recipe is quick to make and made with just 3 ingredients! It's a great festive side dish.
This Sweet and Salty Oven Roasted Sweet Potatoes recipe makes an easy crowd-pleasing side dish. No one can resist these Glazed Sweet Potatoes.
You only need 4 simple ingredients and 10 minutes to prep.
This is an easy, creamy baked mac and cheese recipe made in minutes with just a few staple ingredients! Make the BEST baked macaroni and cheese with very little hands on time.
This Crispy Brussel Sprouts Recipe is bursting with flavor!  Brussel Sprouts with pancetta and shallots are sautéed into a fragrant, textural side dish that will leave your family begging for more. 
Easy Baked Apple Slices are an incredible four ingredient dessert, side dish, or breakfast. This Baked Apple Slices recipe is a delicious way to enjoy your apple-picking bounty.
Thrown together with fresh apples, butter, cinnamon and sugar, they couldn't be easier!
Creamy corn casserole made with cream cheese – this cheesy corn doubles as a dip! It's a classic side dish that is perfect for parties as a dip or a family-friendly side dish.
Drinks
Because it's not a festive party without some seasonal drinks! Choose from traditional cocktails or more family-friendly options.
An easy Non Alcoholic Mulled Wine recipe for the holidays is enjoyable for people of all ages.
This alcohol free mulled wine recipe is created with sweet grape juice, fruit and spices that simmer into a hot Christmas drink that warms you from the inside out.
Pear cider is the fragrant, sweet fall companion to the ever-classic apple cider. This (non-alcoholic) homemade pear cider recipe is aromatic, cozy and brimming with delicious fall flavor!
Cozy, fragrant and delicious… this Mulled Wine Recipe is the perfect fall and winter drink to keep the chill at bay. No German ski slopes required for this easy mulled wine, just invite your friends! 
This Apple Cider Sangria recipe is the chilly weather cocktail you need in your life… it's the perfect combination of sweet cider, zesty ginger, and warm spices.
This Peppermint White Russian recipe is wonderful peppermint drink to enjoy around the holidays. The coffee liqueur, vodka, and half and half compliment the zingy peppermint schnapps to make a festive and delicious peppermint cocktail.
An Oatmeal Cookie cocktail is a delicious drink that tastes just like its namesake. The Oatmeal cookie shot, a favorite of mine because of the delicious and distinct flavor, can be made to serve one or many with my easily adaptable recipe.
This delicious Homemade Hot Chocolate recipe is so easy to make! Get the secret that makes this Homemade Hot Chocolate so rich and creamy!
A Merry Mint cocktail made with Peppermint Schnapps will warm your soul this holiday season! This fun and festive Christmas Cocktail is the perfect blend of cream, mint and vodka!
Desserts
How can all the savory options have all the fun? Choose a few fabulous desserts to send your guests off with a memorable sweet treat.
If you're looking for a recipe for Easy Christmas Brownies, you're in the right place! These cute Reindeer Brownies are so easy to make, and the kids will love to help decorate! 
Classic St. Louis Gooey Butter Cake with a twist – this easy Gooey Butter Cake with Brown Butter has a deeper, richer flavor that you'll crave again and again!
These chocolate covered Rudolph Nose Dough Balls will be the hit of your Christmas get together! They're amazing edible cookie dough truffles covered in a red chocolate shell for a one of a kind no bake Christmas cookie.
This creamy Peppermint Ice Cream is made with just three ingredients in a couple of minutes. It's a candy cane ice cream dream come true… a delicious treat in a bowl and incredible on brownies, sugar cookies, cakes and more!
This beautiful made-from-scratch Mandarin Orange Cake is easy to make, especially with the help of little hands. It's a fresh twist on an old classic – Mandarin Cake made without Cool Whip or cake mix.
This easy Chocolate Pie Recipe with Pretzel Crust is the perfect duo! The simplicity of the chocolate pie filling with the salty pretzel crust is incredible!
Make it ahead and place it in the fridge or freezer to enjoy with family and friends at your next party or holiday gathering.
Enjoy the flavors of the season with creamy Eggnog Ice Cream – a fun and festive Christmas dessert made with just six ingredients in five minutes! This is a no-churn ice cream recipe that's perfect for the holidays.
Learn how to make toffee with easy step by step instructions and video. Cracker Toffee aka Saltine Toffee is a classic Christmas Candy that you can't keep your hands off of! Perfect to give as a holiday food gift and so easy and quick to make.
This Easy No Bake Pumpkin Cheesecake Recipe can be whipped together (literally) in five minutes!
With five simple ingredients, it's the best pumpkin cheesecake for the holiday season – less time in the kitchen and more time with your loved ones!
This easy, creamy Peanut Butter Fudge recipe is extremely popular during the holiday season and it's no wonder why – it's ridiculously good.
Learn how to make a cheeseball with a charming snowman cheese ball recipe! Get all the best tips and tricks for creating this sweet dessert snowman cheeseball.
Are you excited to host friends and family this holiday season? I'd love to hear from you!
More Holiday Inspiration
Did you make this? Rate the recipe and tag me on social @julieblanner!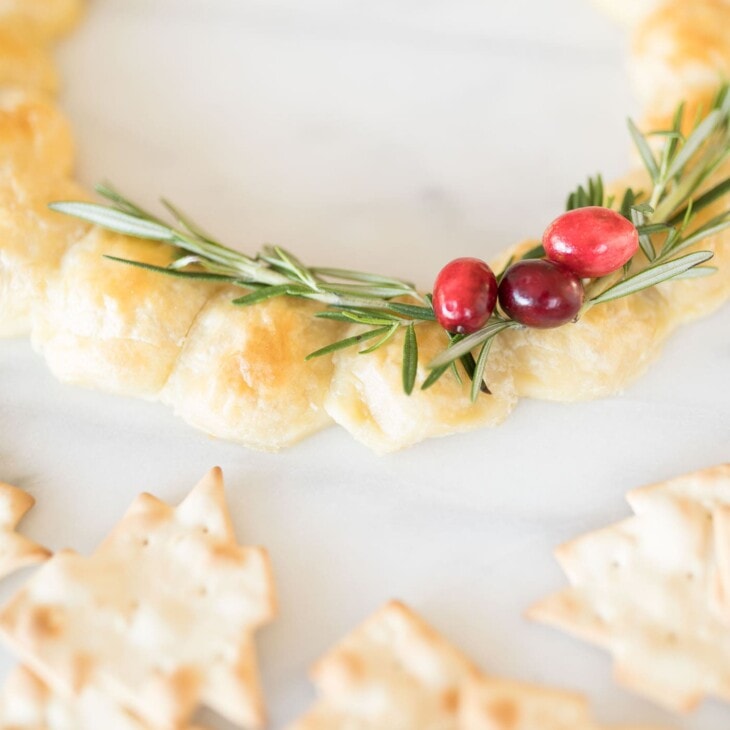 The Best Christmas Recipes
Plan your Christmas menu with these easy and incredible printable recipes! Prep ahead, make your plan, and let's get started – this recipe card can be printed as a classic Christmas menu guide, with the MOST POPULAR recipes from each category included. Heavy on the appetizers and sides, of course – because those are always favorites!
Prevent your screen from going dark
Instructions
Side Dishes
Each of these side dishes can be prepped ahead, with the exception of the brussels, which need to be sautéed at the last minute for the best crispy flavor. Everything else can stay in the oven for an hour or two prior to serving to keep them warm.
Estimated nutrition information is provided as a courtesy and is not guaranteed.