Adding an attached pergola to your home is an incredible statement and instantly creates charm and appeal. A pergola on the porch attached to the front of a house can create a warm welcome and add interest to any era or style of living.
While an attached pergola can be beautiful on either side of your home, a porch pergola or even a front door pergola is so inviting! Learn all about pergolas and find out if one is right for your home.
When we started looking for a vacation home by the lake, we quickly realized that the attractiveness of the curb didn't often play a role for houses in our price range. We knew we had to find the right house for us and work to make the curb more attractive over time.
We were so happy to finally find a home that checked all of our boxes and it had a little curb appeal on top of that! At first glance, we loved the large veranda, the old brass lanterns and above all the attached pergola.
See the before and after of this lake house!
Front door pergola for curb appeal
A pergola can immediately add a certain appeal to an otherwise simple exterior of a house. They're a classic addition to homes of all eras and styles: cottages, ranch homes, traditional two story, and even modern and contemporary homes.
Fortunately, there are affordable freestanding and attached prefabricated pergolas that you can add to your patios and porches. I'm going to share a few shopping resources to create this look in your own home.
This post is not meant to be a DIY pergola tutorial – instead, I'll walk you through a little story about pergolas, what they can and can't do for your home, and the pros and cons of a pergola attached to a house.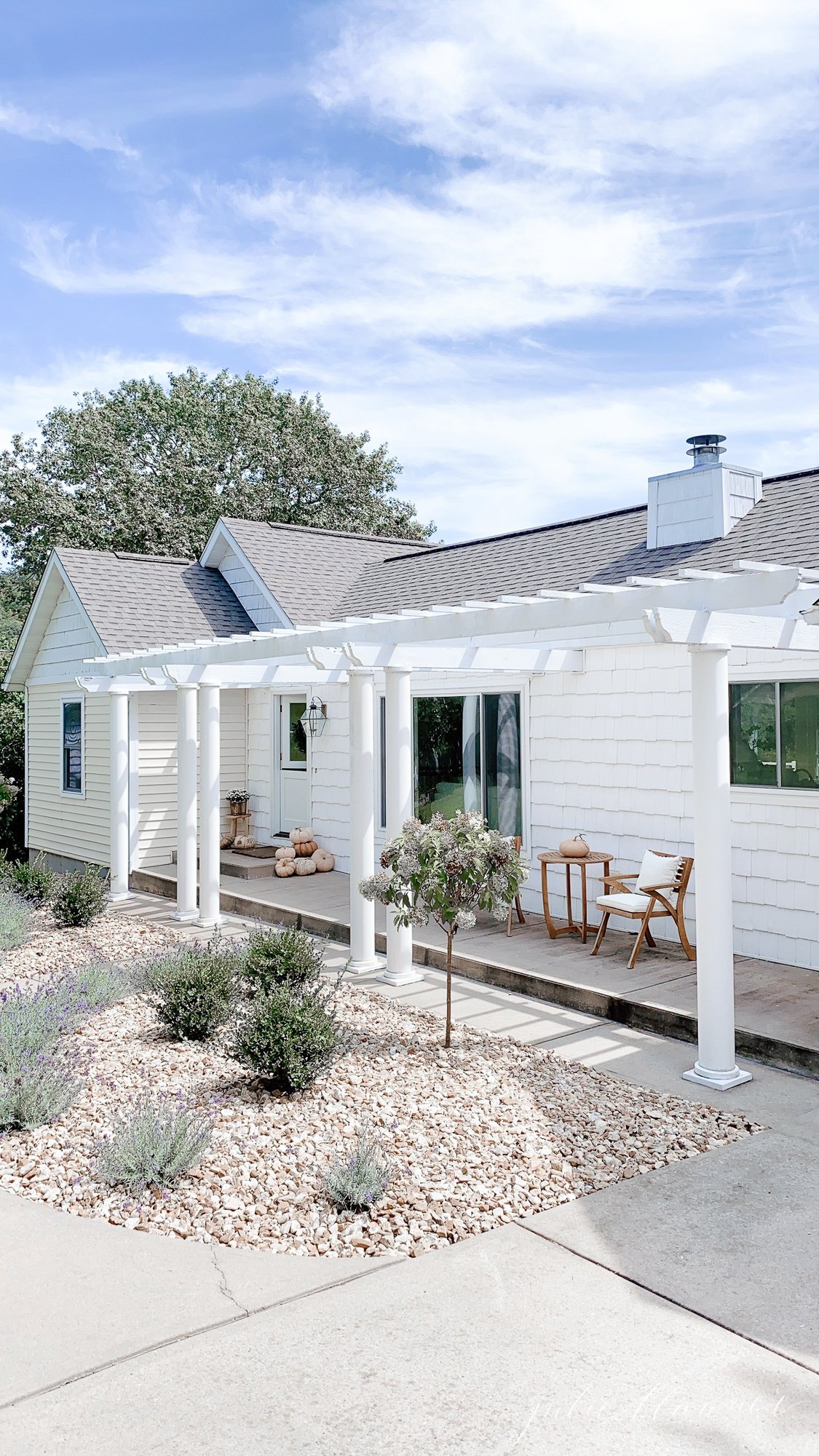 What is a pergola?
At first, you may be wondering what exactly a pergola is. While an arbor is generally a smaller, often arched, free-standing structure, a pergola carries more weight in any area outside of your home. They often help expand the living space within a home and create a structured environment.
They are also different from a pavilion. Pavilions traditionally have a closed roof that keeps the space underneath dry in bad weather. Pavilions are often round in shape, while pergolas are more square or rectangular in shape.
A pergola is a type of exterior structure made up of rafters and beams supported by columns or posts. A pergola can be attached directly to a home or used as a free-standing structure in any outdoor setting.
The grille of a pergola can be covered with an awning to offer more protection from the sun and the elements, or it can be left open as a decorative element.
Often times, gardeners can train vines to grow the pillars for added charm! They can also help create an eye catcher and draw attention to a specific area of ​​your garden. Pergolas can cover a fire pit or conversation area, bench or swing, or even a hot tub.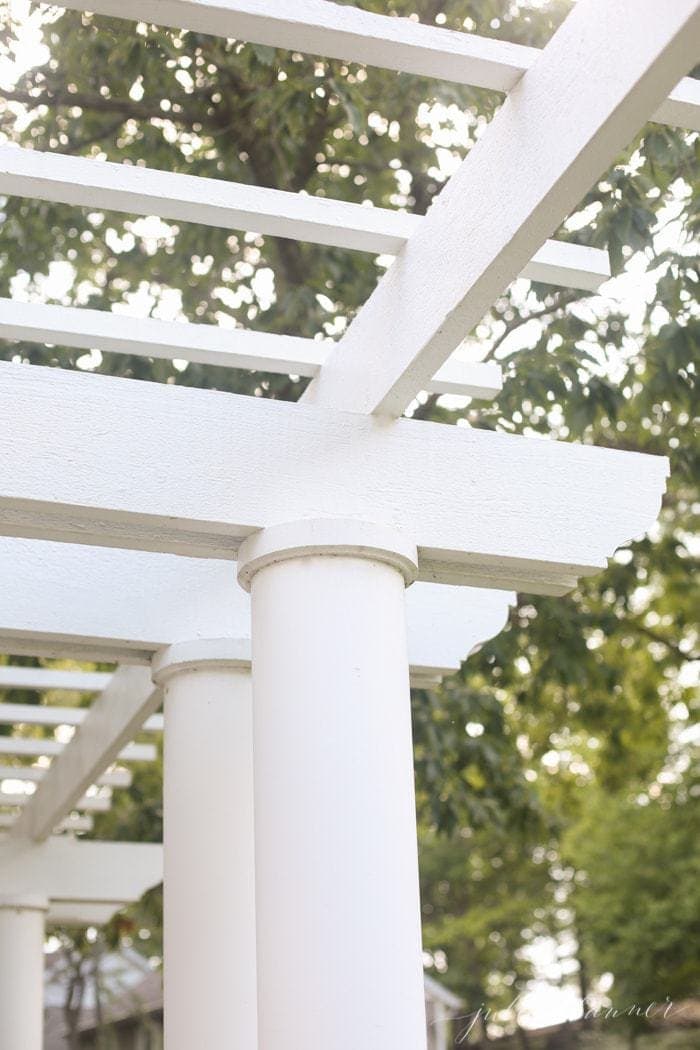 Veranda pergola
While many pergolas are attached to the side or back of homes, they can add so much appeal to curbs the front of a house even!
In our situation at the Seehaus, the attached pergola gives the veranda a lot of charm and interest in an otherwise quite simple room.
You can often find pergolas on the porch in single-story homes like a ranch or cottage. You can even add a pergola over a front garage or your home for added interest and an exciting entrance!
Advantages and disadvantages of a pergola on a house
Advantages:
Easier to build than pavilions and more formal structures and outdoor spaces
Adds curb appeal at the front of your house or garden charm at the back with vine tendrils etc.
Relatively low maintenance
Easy to Add outdoor lighting for an additional magical shine and security
Disadvantage:
No accommodation from rain, sun or other elements
Generally it cannot be postponed Once installed – whether fixed or free-standing, they are heavy structures
expenditure – Material costs have increased and a custom-made pergola can be expensive
weight – When installing a pergola on your house, you need to pay attention to the mechanics and structure of the fastening.
Might need a permit – Depending on the constraints of your city, county, or HOA, a pergola is considered a structural addition to your home.
Even if it costs more than you might expect, a front pergola is a great investment! It pays off with incredible charm, mood and function.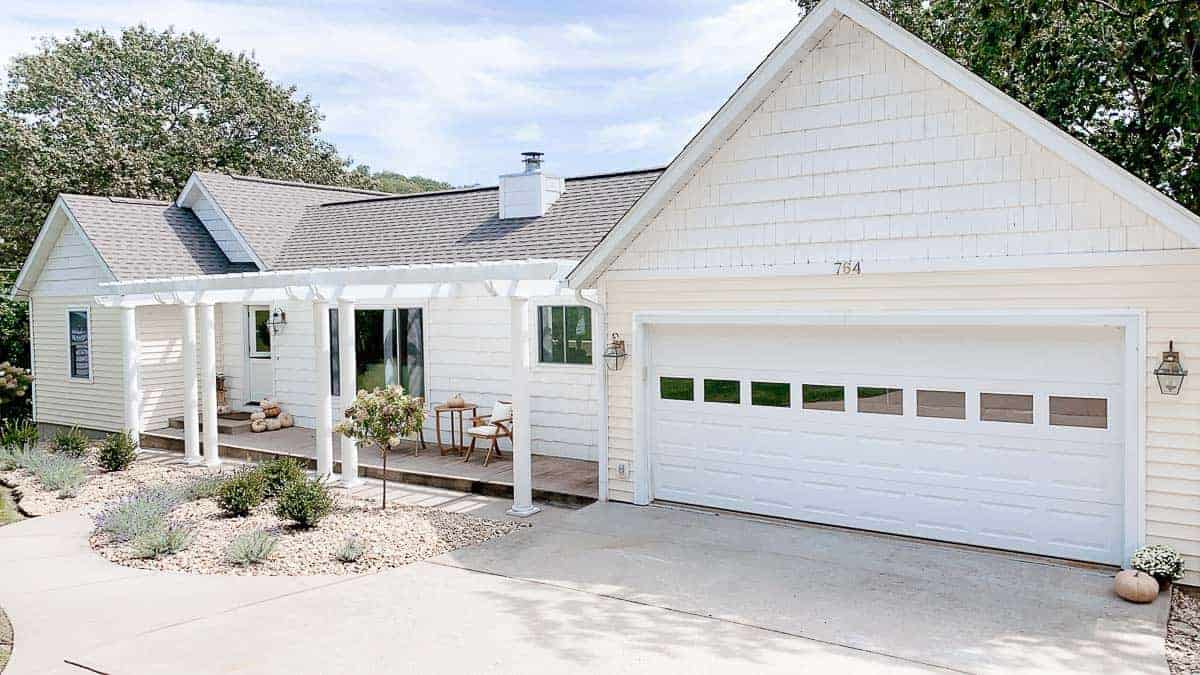 frequently asked Questions
How much does a DIY pergola cost?
It all depends on your area, the number of square meters of your pergola, labor costs and materials. While you can make it yourself for a lot less than a custom pergola from a local carpenter, you can also purchase a pre-made pergola for between $ 600 and $ 6,000.
Is it cheaper to build or buy a pergola?
The cost of making a pergola yourself is generally cheaper than buying a pre-built version and certainly less than hiring a professional to build and install from scratch.
Remember that building a DIY pergola takes a lot of tools, knowledge, and skills, so the cost of your expertise in the field is relevant.
Do pergolas offer added value for your home?
Yes, pergolas can increase the quality of living. Outdoor living is more popular than ever with homeowners. However, it is important that your pergola is well maintained and designed.
Pergola sources
While I can't help you find a local carpenter to add an attachment to Custom Pergola, I can help you find the look for less! Here are some options for pre-built built-in pergola kits.
You can also find a couple of freestanding pergolas to add a bit of that charm to your own home!
New England Arbors Freemont 12 ′ x 12 ′ Vinyl Recessed Pergola | Regency 12 ′ x 12 ′ vinyl pergola | Aluminum pergola with a natural wood look finish 10x13ft | Camelot 12 ′ x 12 ′ Adjustable slat vinyl pergola | Yardistry 10 x 12 pergola made of cedar wood | Backyard Discovery 3 mx 4 m pergola made of cedar wood