This sweet and spicy cranberry salsa is an incredible way to spice up your holidays! When you blend the tart juicy bite of fresh cranberries with fiery jalapeños, magic happens. This Christmas salsa is the ultimate addition to your holiday appetizer spread!
Serve it over a block of cream cheese with crackers, or try it more traditionally, served with your favorite tortilla chips. However you serve it, this cranberry salsa is sure to be the star of the show!
While we might choose classic appetizers for parties throughout the year, it's fun to find something more seasonal for the holidays. This cranberry salsa is exactly that!
Delicious for Thanksgiving and Christmas, this is a tart, vibrant salsa recipe. It is excellent over cream cheese when served with crackers, or with tortilla chips as a more traditional salsa.
Any which way you serve it, I think you're going to love it! Reminiscent of my pineapple salsa and mango guacamole, the fruity flavors when combined with a touch of spice are so memorable.
Why You'll Love this Cranberry Salsa
Flavorful and Festive
Easy to Make
Mixes Heat, Tartness and Creaminess
Great for Entertaining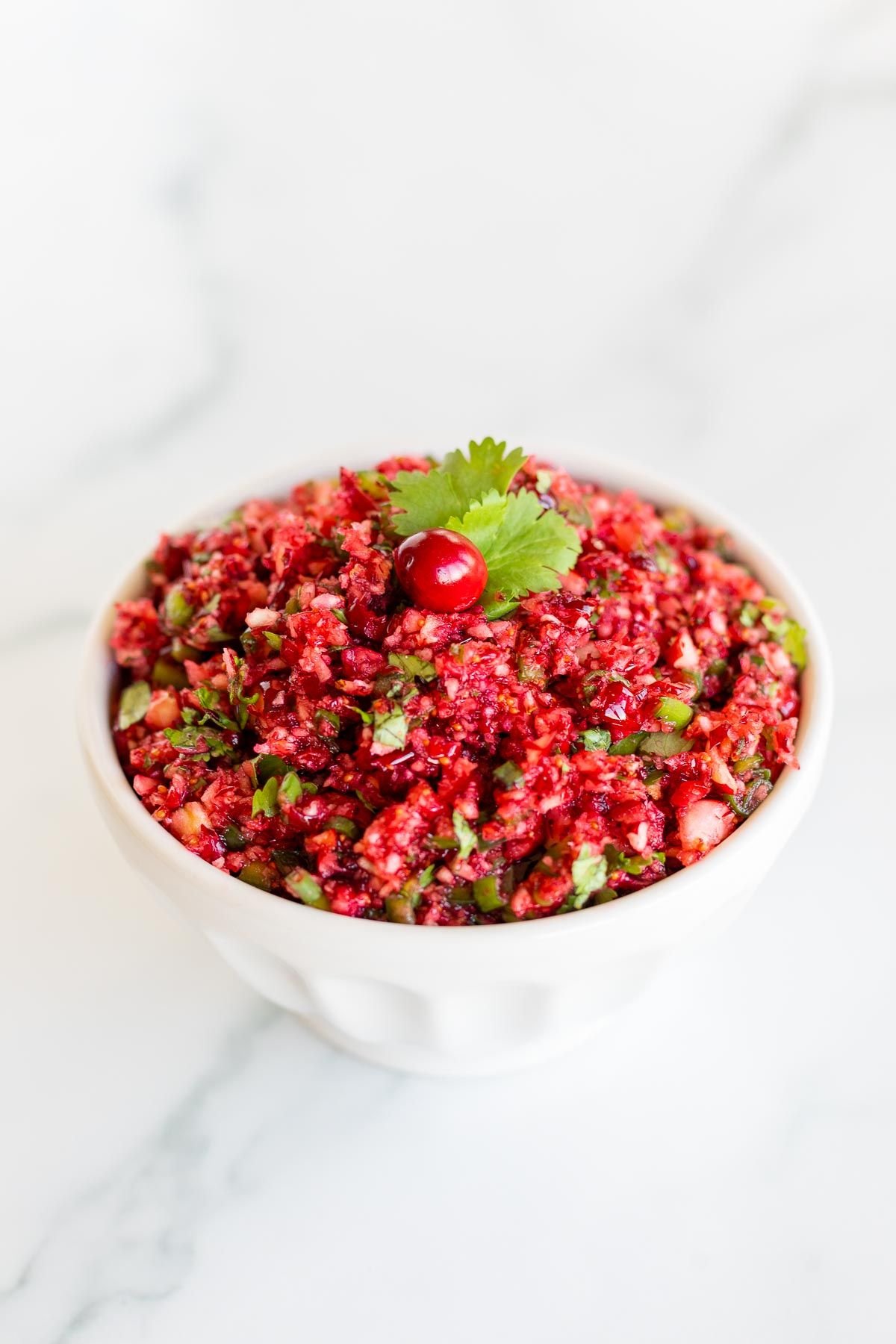 Cranberry SalsaIngredients and Substitutions
Cranberries – Fresh cranberries sold in a 12 oz package are preferred here. Frozen cranberries tend to get mushy when thawed. The fresh cranberries stay firm and work the best.
Sugar – Granulated sugar gets all of the juices flowing out of the cranberries to sweeten them up just the right amount.
Green Onions – These are the perfect mild onion to eat raw in a dip. Substitute with a red or sweet yellow onion if desired.
Cilantro – A traditional salsa flavor that incorporates beautifully into this salsa as well.
Jalapeño Pepper – I recommend removing the seeds, but if you like a lot of heat you can keep them in. Replace with a bell pepper if you don't want any heat.
Cream Cheese – Salsa is served over cream cheese to counter the heat of the pepper and add a luxurious taste.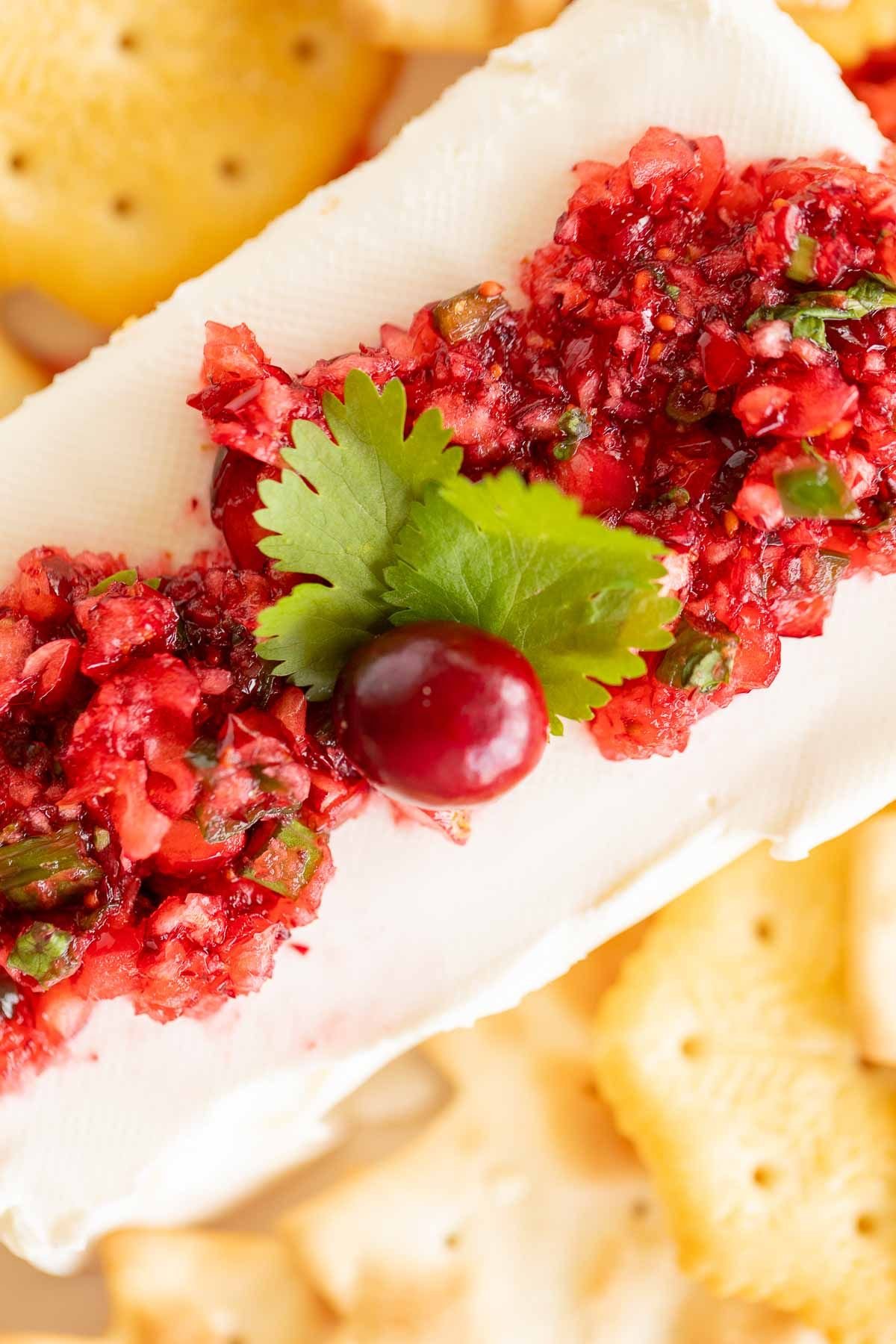 Variations
Experiment with different flavors–a little ginger, different peppers or onions, a squirt of lime juice.
Serve over another variety of dippable cheese.
Or, skip the cream cheese entirely and just serve this as a traditional bowl of salsa.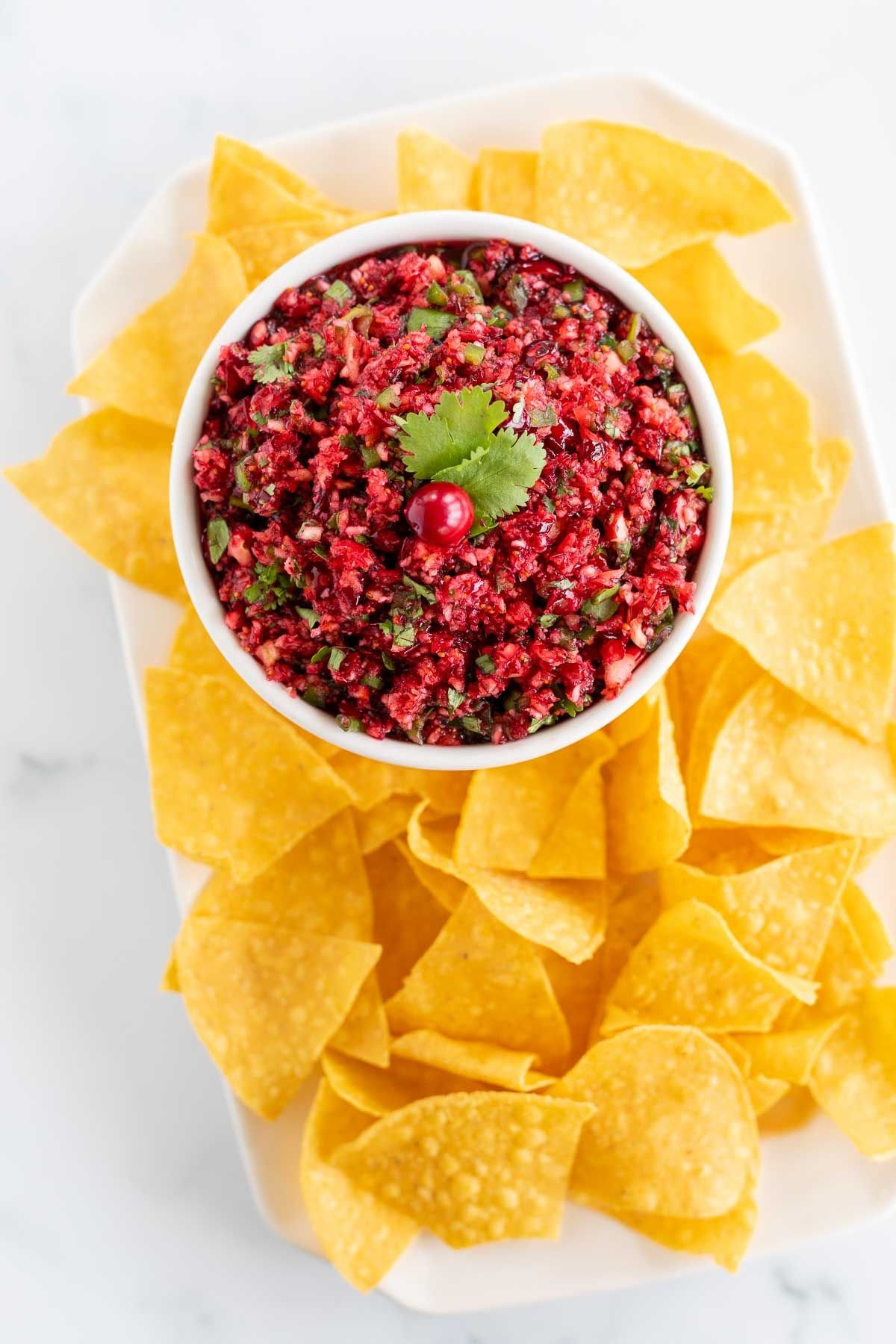 How to Make Cranberry Salsa in Just Four Easy Steps
Pulse cranberries and sugar in food processor until desired texture.
Stir together with onions, cilantro and jalapeño.
Cover and refrigerate several hours or overnight.
To serve, place cream cheese on serving plate, drain salsa and spoon over cream cheese.
Watch the video where Julie will walk you through each step of this easy recipe. You will find a collection of recipe videos right here on our website with corresponding recipes.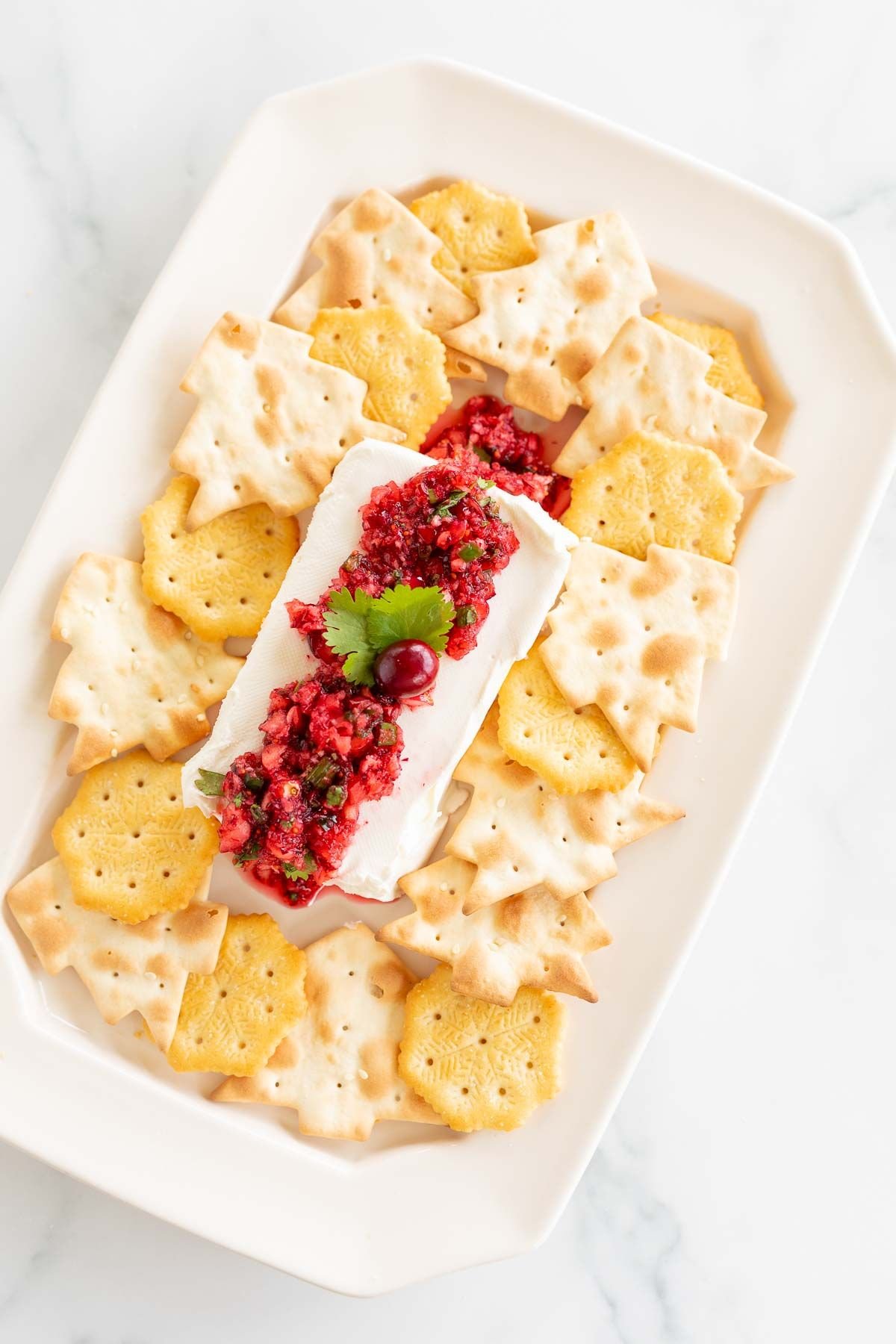 Tips

Make sure to let the salsa refrigerate for a few hours. This allows the flavors of the ingredients to absorb into each other.
The smaller you dice your cranberries, the less tangy your salsa will be. That's because the sugar has a change to sweeten more of the surface of the berries in smaller pieces.
In these photos, the recipe is doubled. Use the easy sliding bar in the printable recipe card to quickly double or triple ingredients.
Be careful when cutting jalapeños! Don't touch your face/eyes after you've touched a jalapeno until you've thoroughly washed your hands. The capsaicin, or heat, can transfer from your hands to your eyes and make them burn for a while.
Scaling up, down or substituting? You'll love this printable Measurement Conversion Chart!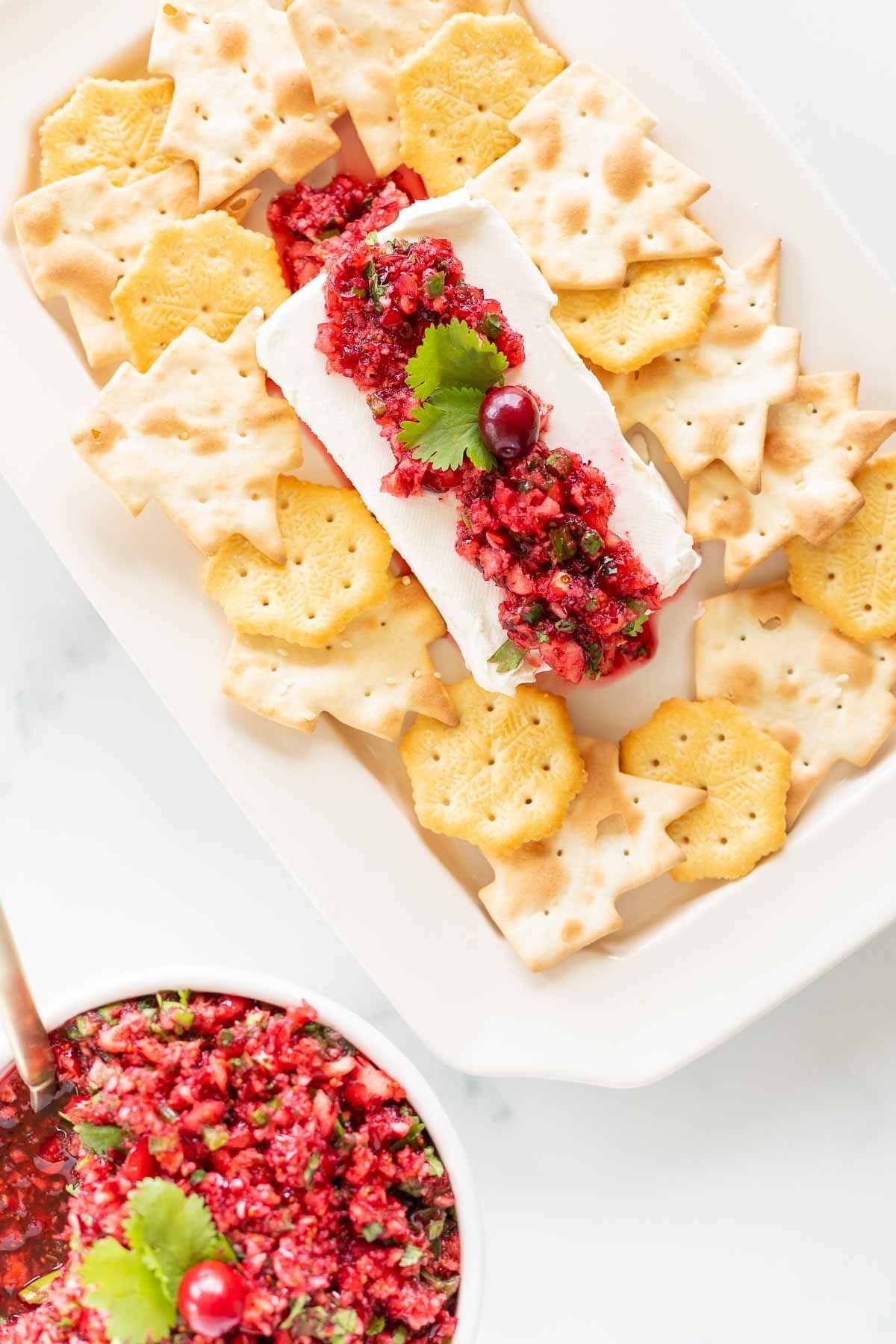 Shortcuts
Use the food processer to pulse the ingredients at the same time. Place the cranberries on the top of the other ingredients. Stir between pulses if necessary.
Cream cheese is easiest to serve when it's at room temperature. Feel free to prepare this dish and allow it to sit out for up to an hour before guests arrive.
Frequently Asked Questions
Can I use a different cheese than cream cheese?
Cream cheese works well for this recipe because it is firm and has a creamy texture that offsets the flavors of the salsa. But you could easily spoon some Christmas Salsa over ricotta cheese, mascarpone, Neufchatel, or even a dish of sour cream.
Can you freeze cranberry salsa?
You can freeze cranberry sauce, relish and salsa. (See the details and how-to below!) However, it's always best when served fresh, as the cranberries tend to become mushy as they defrost.
Make Ahead
Chop your vegetables ahead of time and store in a dish for up to three days before you make the salsa.
Allow time for chilling, at least four hours, before serving.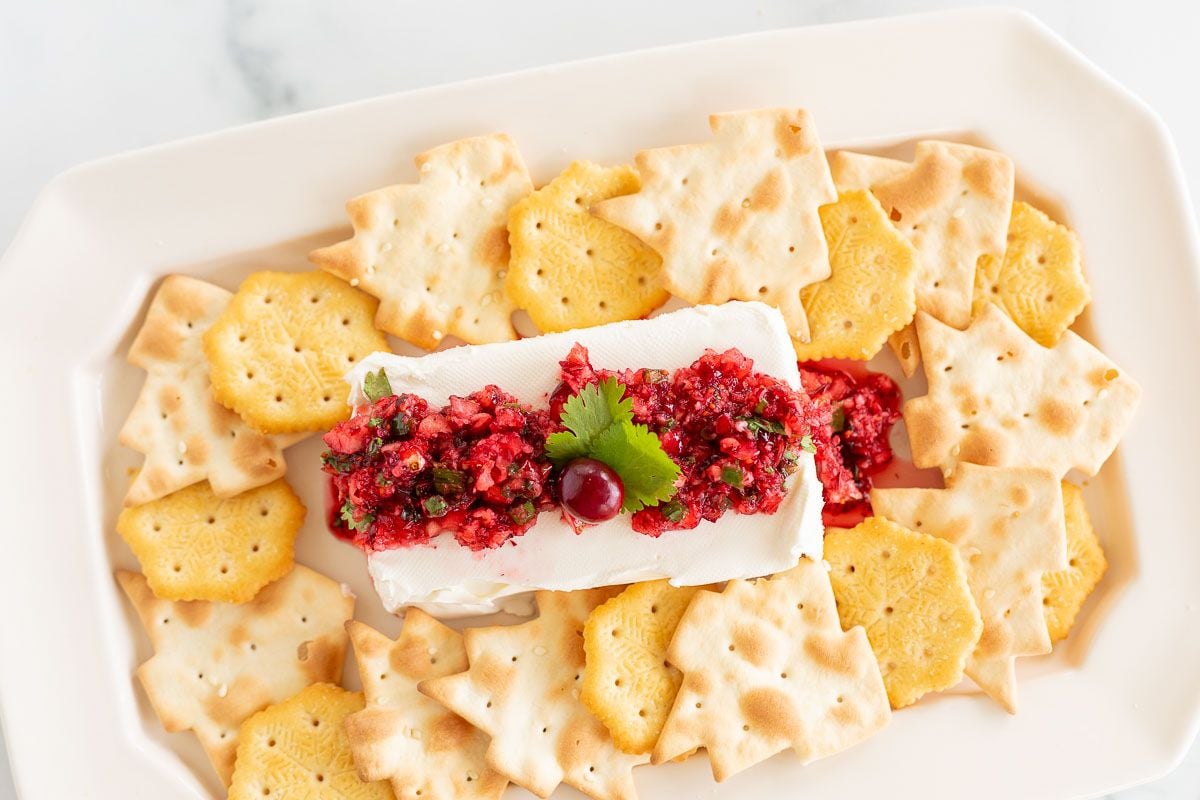 How to Store
At Room Temperature – This cranberry salsa can sit out at room temperature while serving for up to two hours.
Refrigerate – This Christmas salsa keeps so well! Store it in the fridge for up to a week, and enjoy anytime!
Freeze – store in an airtight container in the freezer for up to three months. However, this cranberry salsa is best served fresh.
Serve this cranberry salsa with these festive Christmas tree crackers and snowflake crackers for the perfect holiday-inspired touch!
What to Do with Leftovers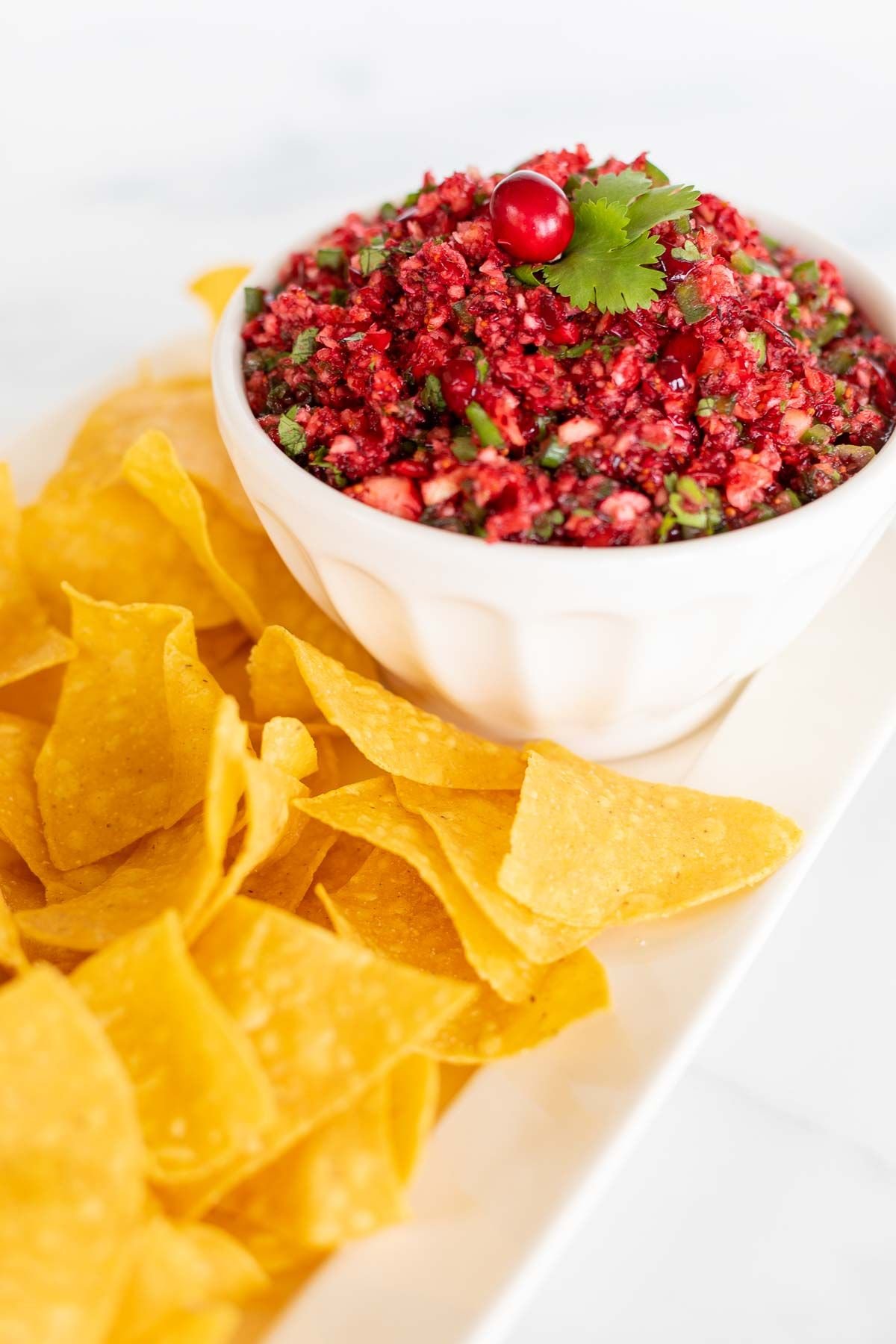 Dietary Considerations
Gluten Free
Dairy Free
Nut Free
Hungry for more easy recipes? Sign up for my free recipe club and have amazing recipes delivered directly to your inbox each week!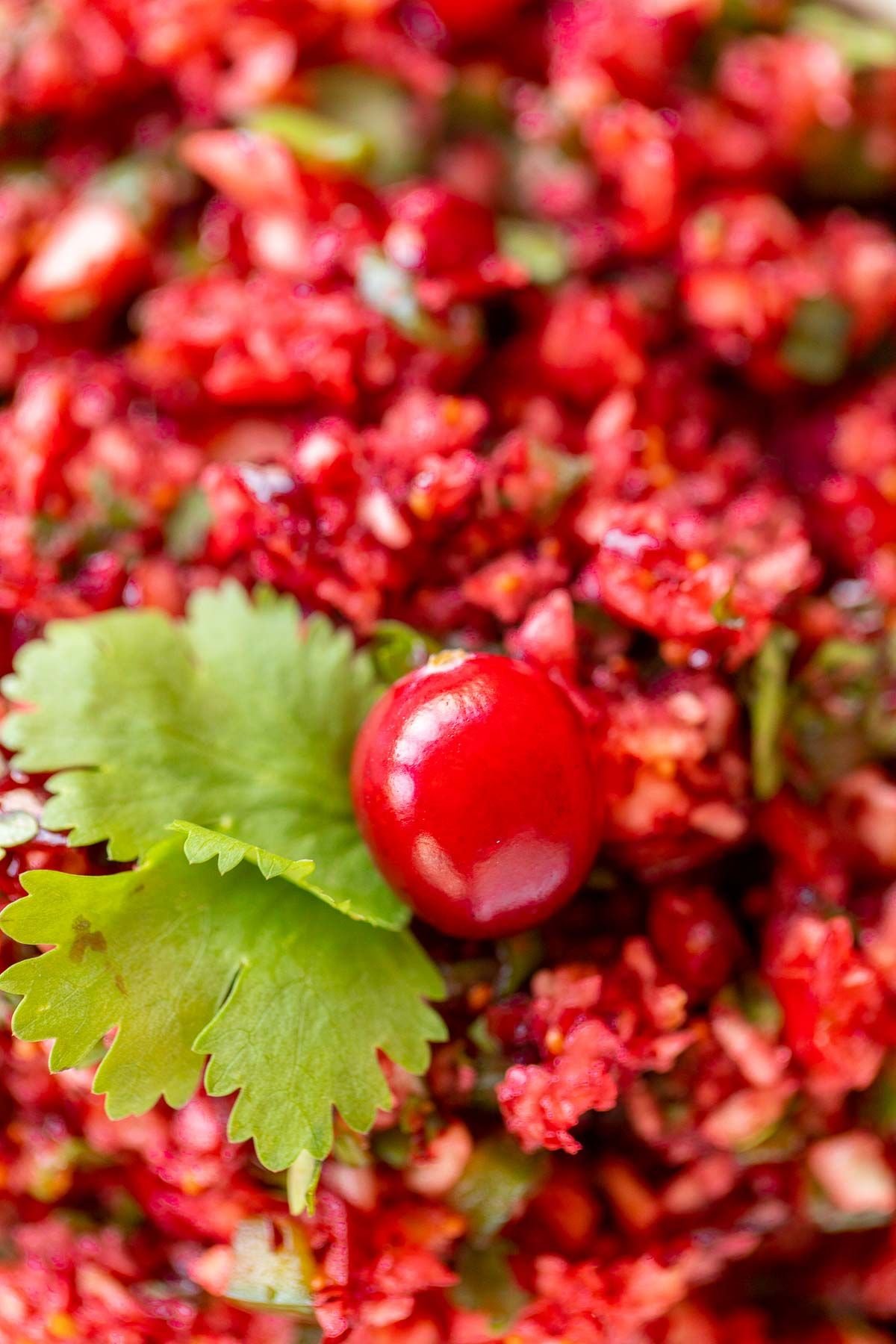 More Easy Holiday Appetizers
Did you make this? Rate the recipe and tag me on social @julieblanner!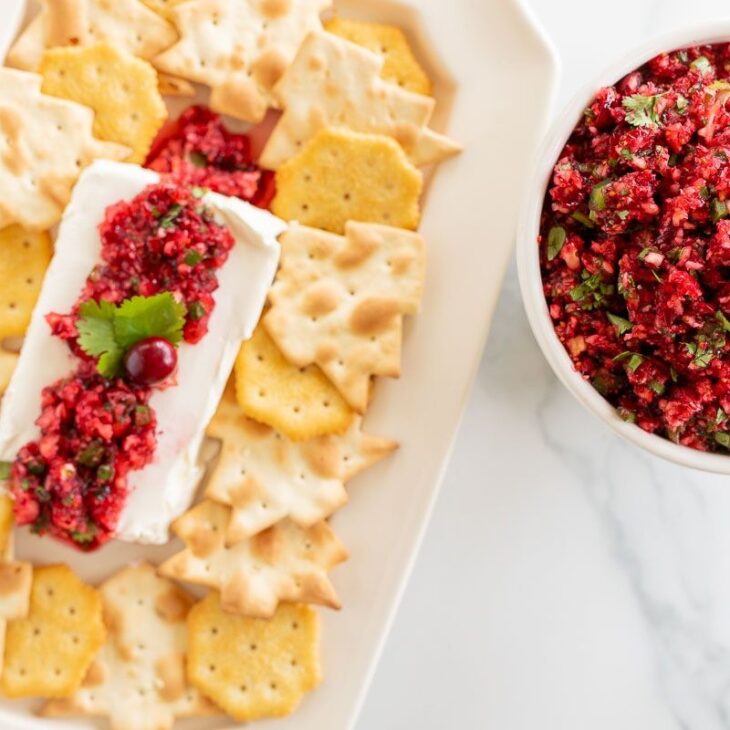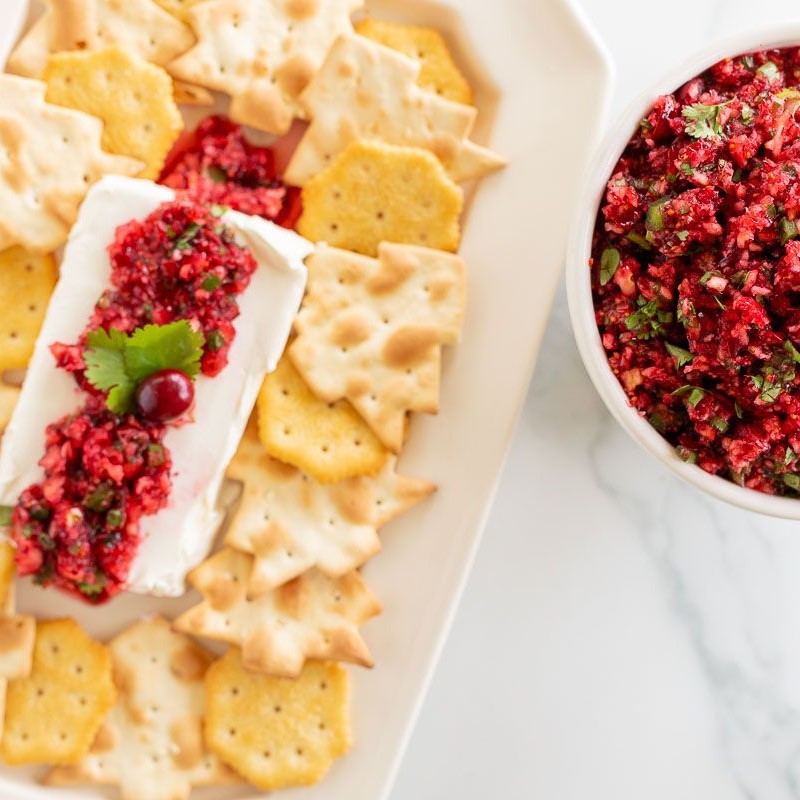 Cranberry Salsa
This sweet and spicy cranberry salsa is an incredible way to spice up your holidays!
Prevent your screen from going dark
Instructions
Pulse cranberries and sugar in a food processor or blender until you achieve the desired consistency and texture.

Fold in chopped onions, cilantro and jalapeño.

Cover and refrigerate several hours or overnight to allow it to marinate.

Serve as salsa with tortilla chips or place softened cream cheese on serving platter. Spoon salsa over cream cheese and serve with crackers.
Tips
Tips
The smaller you dice your cranberries, the less tangy your salsa will be. 
Refrigerate for a few hours to allow the flavors to absorb into each other.
Use the easy sliding bar in the printable recipe card to quickly double or triple ingredients.
Don't want to dice and chop? You can add jalapeño and cilantro leaves into the food processor and pulse once.
Nutrition Information
Calories: 210kcal (11%), Carbohydrates: 27g (9%), Protein: 2g (4%), Fat: 11g (17%), Saturated Fat: 6g (30%), Polyunsaturated Fat: 1g, Monounsaturated Fat: 3g, Cholesterol: 35mg (12%), Sodium: 105mg (4%), Potassium: 79mg (2%), Fiber: 1g (4%), Sugar: 26g (29%), Vitamin A: 604IU (12%), Vitamin C: 4mg (5%), Calcium: 39mg (4%), Iron: 1mg (6%)
Estimated nutrition information is provided as a courtesy and is not guaranteed.